nbtnbt5
4d 8h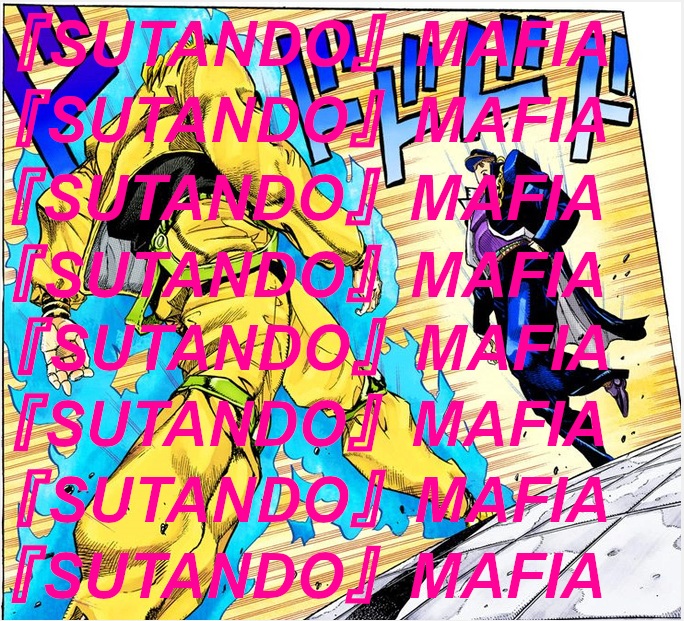 The small town of Morioh is a strange place. Local attractions include Anjuro Rock -- a grotesque-looking rock that's a local favorite for lovers, The Man Who Lives In The Transmission Tower -- an entirely self-sufficient hermit that lives in a decommissioned electrical tower, Enigma -- a one of a kind book at the library that changes its story every time you read it, and Ghost Girl Alley -- a hidden alley that only appears to those who are lost. Today, fate conspires to bring 11 strangers together in a bizarre adventure filled with intrigue, mystery and moida!
Welcome to『SUTANDO』mafia!
Rules: https://docs.google.com/document/d/1mTFt9Xe6vfwtRB0Q6_i7orvU7H1okmMzdBl3RUwMxAw/edit?usp=sharing
A『STAND』represents the manifestation of an individual's innate psyche. 『STANDS』can be literally anything -- a humanoid, a power outlet, a group of footprints, a fishing rod, a comic book that tells the future, etc. All『STAND』names are music themed (musician, band, song, etc). For example, canonical stand names include 『EARTH WIND AND FIRE』, 『NOTORIOUS B.I.G』, 『WHITE ALBUM』and 『DIRTY DEEDS DONE DIRT CHEAP』. This game will be using that naming nomenclature.
A small list of things to keep in mind:
You may directly post your role PM. You may not post any host communication or anything posted in your diary.
Ping me in your diary if you have any questions.
Night actions sent to me must be ordered, or I will consider no night actions to be taken.
Only bolded votes will be counted.
11 players. 3 mafia. No 3rd party roles.
Good Luck and Have Fun!
Stands are unique and so are all the roles in this game.
Example Role PM:
STAND ―『Chromatica』― You are aligned with the Town. Your stand takes the form of a raw meat effigy. You gain a talent for creating elaborate costumes.
With your talented sowing you've made an incredibly realistic bush hat! You hide outside your house at night, watching for intruders. You are made aware of all who visit you at night.
There are teardrops on your face, water like misery. Avenge yourself! When you are lynched you may choose one person to shoot.
Game Events:
deux is lynched (pg 102)
shady is killed (pg 102)
day 2 begins (pg 102)
incarcerated is lynched (pg 203)
day 3 begins (pg 203)
Players
No players added to the game yet
{{result.username}}