Clair
1mon 24d
I enjoy being a setup nerd so please forgive me for nerding out :D
LOBL has always bothered me a little because I always thought it was slightly flawed. Setup 3 is townsided and mafia had (almost) no information on day 1 at all, the information they had was never that good anyway. There's no way for mafia to co-ordinate their PR claims.
I've made a couple of LOBL variants in the past. However, I think they stray a little too far away from the original, so I propose a very slight adjustment: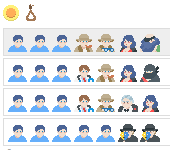 In this version, setup 3 has also been given a hooker so the mafia have a way of breaking the PRs.
It's still daystart so mafia still don't know their partners BUT the non-hooker know the setup at least. If they want, SM can claim doc, Ninja can claim watcher and GF can claim cop.
I thought it would be a shame to deprive the nilla in setup 4 from guising if they really want to, so I made him a guiser too. If you're a guiser, and someone claims PR, that's your partner. Sadly, if you choose to guise out after fakeclaiming PR, you will flip blue and reveal the ruse.
Variants:
For the boyz who prefer knowing their partner.
In this verision, mafia getting lynched doesn't give town information on the setup. That means if the guiser pulls off a convincing fakeclaim, he can guise into someone and it won't reveal he guised out!
Dawn + No Flip
You can also combine the two above but I've spammed my profile with enough setups for now. :pensive:
Players
No players added to the game yet
{{result.username}}
Opinion